Vietnam is a true paradise for a fruit lover. Numerous kinds of exotic fruits can be found at the lively street markets all over the country. Let's glimpse this diversity.
Dragon fruit (Vietnamese: Thanh Long)
Dragon fruit also known as Pitaya is the fruit of cactus with pink skin and white or red flesh. There is also a yellow-skinned type, but it's not very common in Vietnam. The pulp of dragon fruit is soft with small black seeds and has a delicately sweet taste.
Season: October, November, April, and May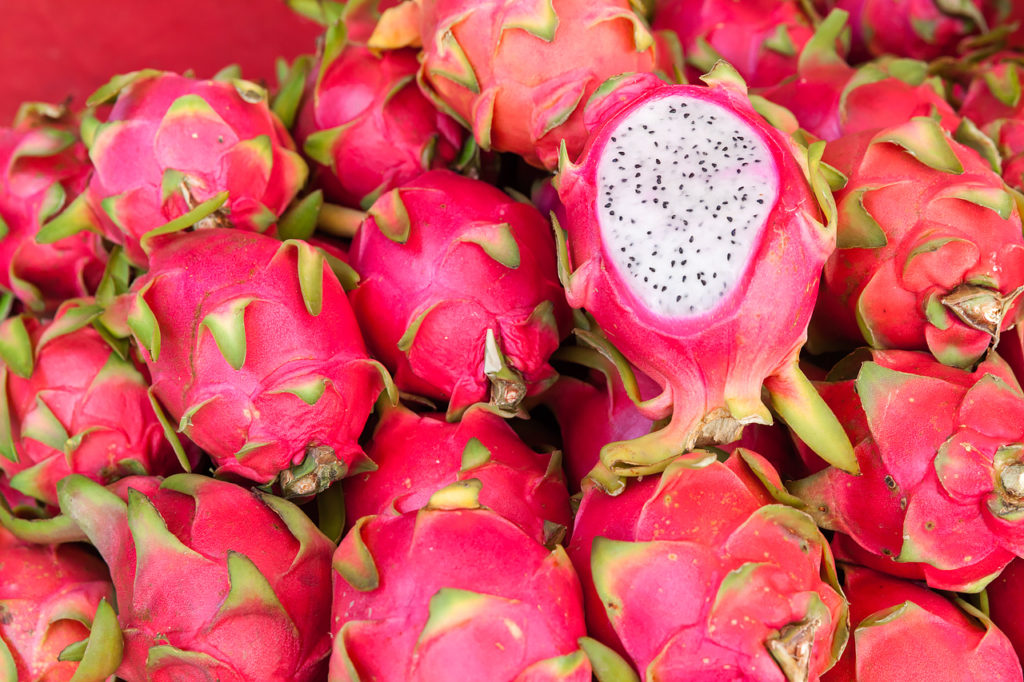 Longan (Vietnamese: Nhãn)
"Longan" translates as "dragon eye" from Cantonese, it is so named because it looks like an eye when the fruit is peeled off. The member of soapberry family, along with lychee and rambutan, longan has a sweet fragrant taste.
Season: June to August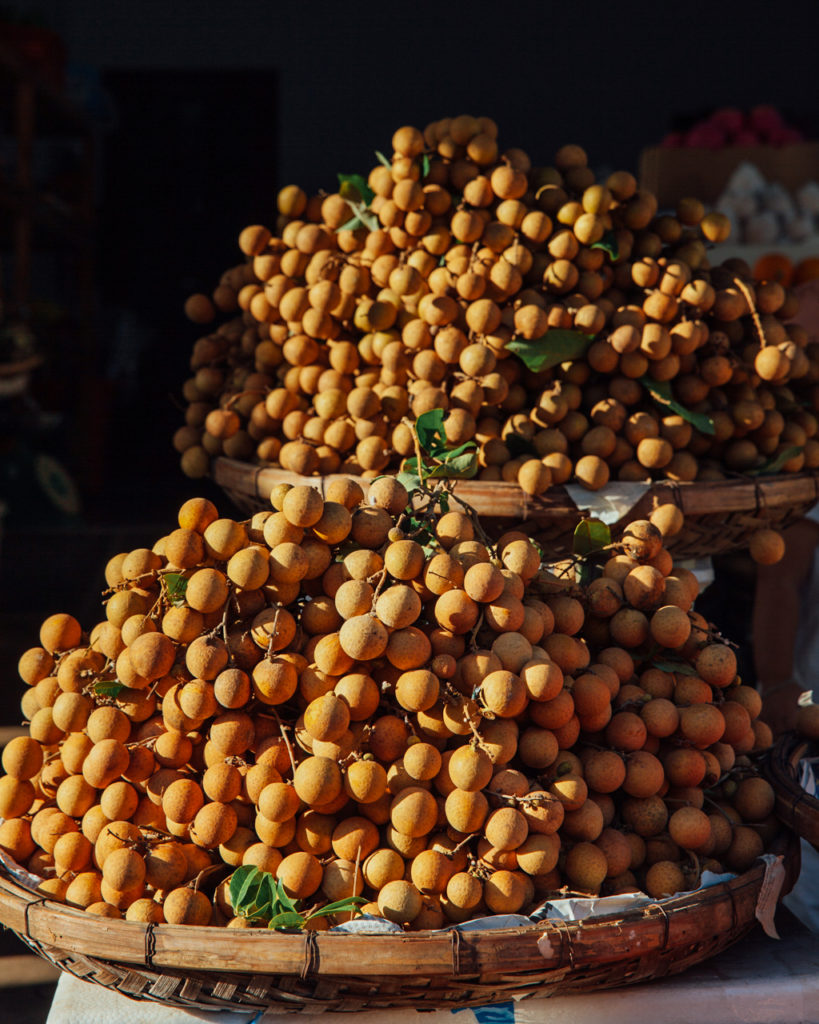 Lychee (Vietnamese: Vải)
Tropical fleshy fruits with perfume-like floral flavor. The pink skin is inedible but can be easily removed from the ripe fruit. In Vietnam, lychees are usually sold in bundles.
Season: May to June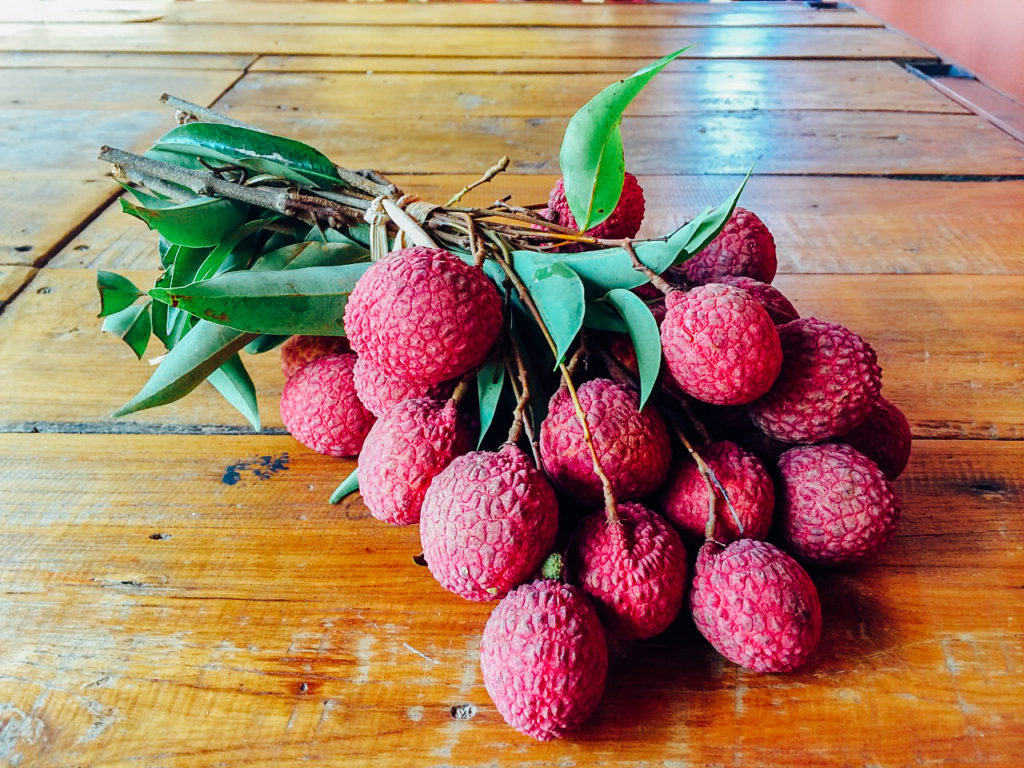 Rambutan (Vietnamese: Chôm chôm)
Curious "hairy" pink-red balls with white sugary flesh inside. Originally from Malay-Indonesian region, it is now widely accessible throughout Southeast Asia. As it relatives lychee and longan, rambutan is best to buy when it is still attached to the branches.
Season: May to July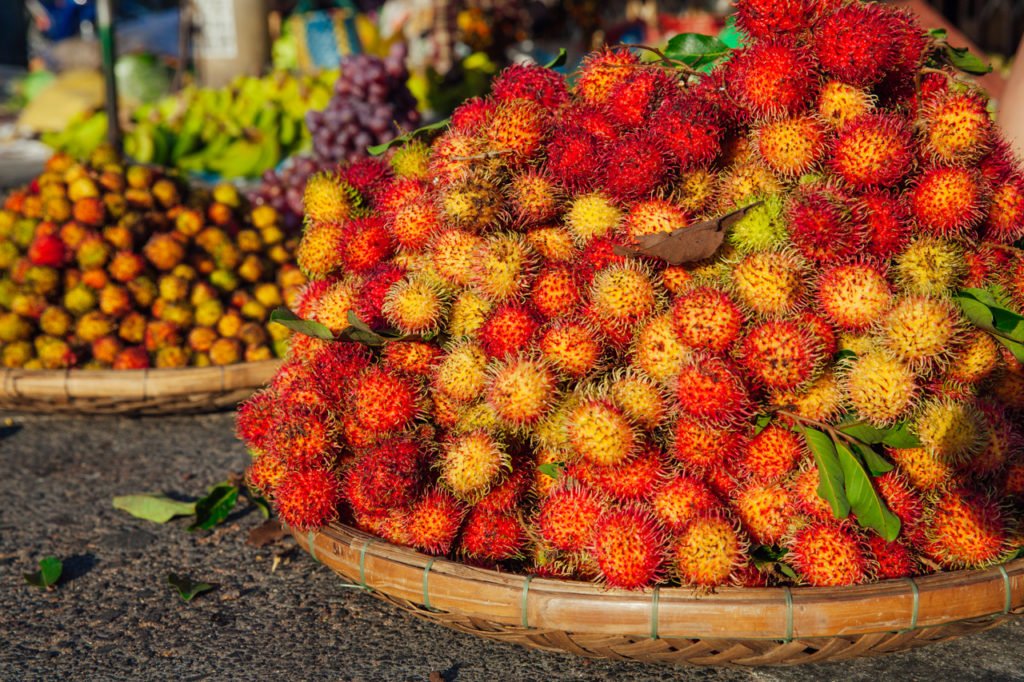 Star apple (Vietnamese: Vú sữa)
Tropical fruit with milky-white sticky juice and sweet pulp having grape notes in the flavor. Spoon is the preferable way to eat the pulp, skin is not edible. Fruits are usually purple-skinned, but also are available in green or red.
Season: November to April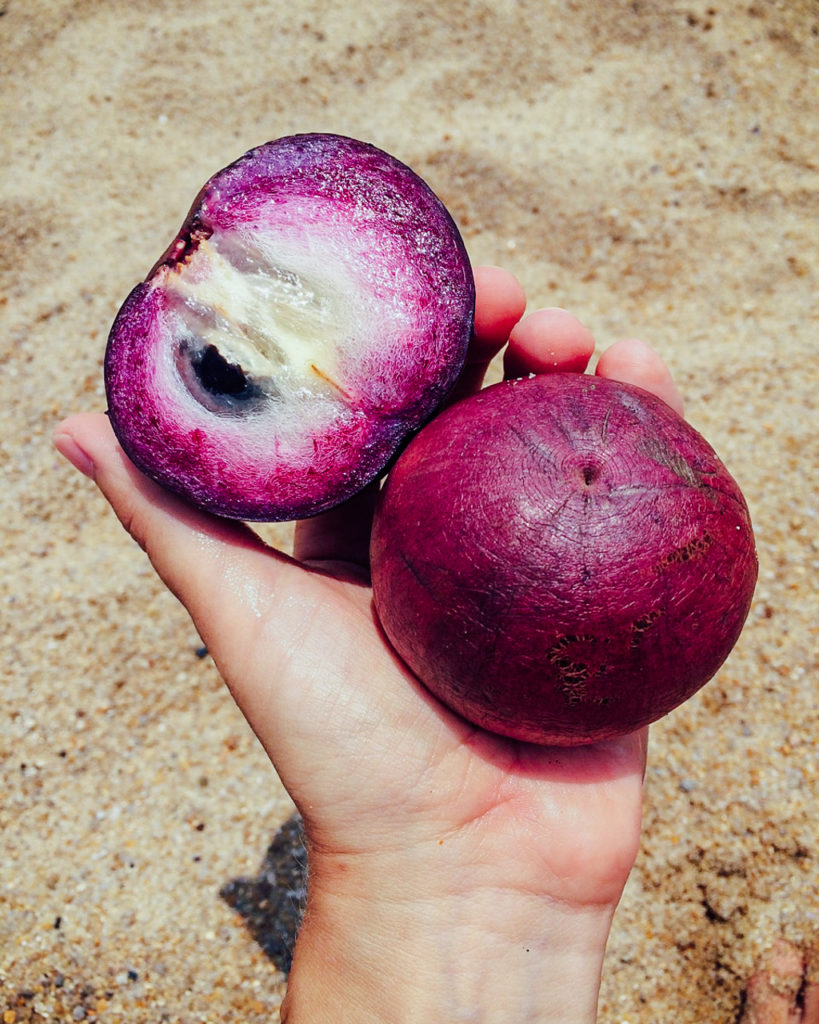 Mangosteen (Vietnamese: Măng cụt)
These fruits look like giant purple nuts with hard inedible rind and juicy white pulp divided into sections. Fresh mangosteen still remains rare outside the tropical region, so it is one of the must-eats in Vietnam. The sweet and sour taste reminds of strawberry and grape.
Season: mid-April to June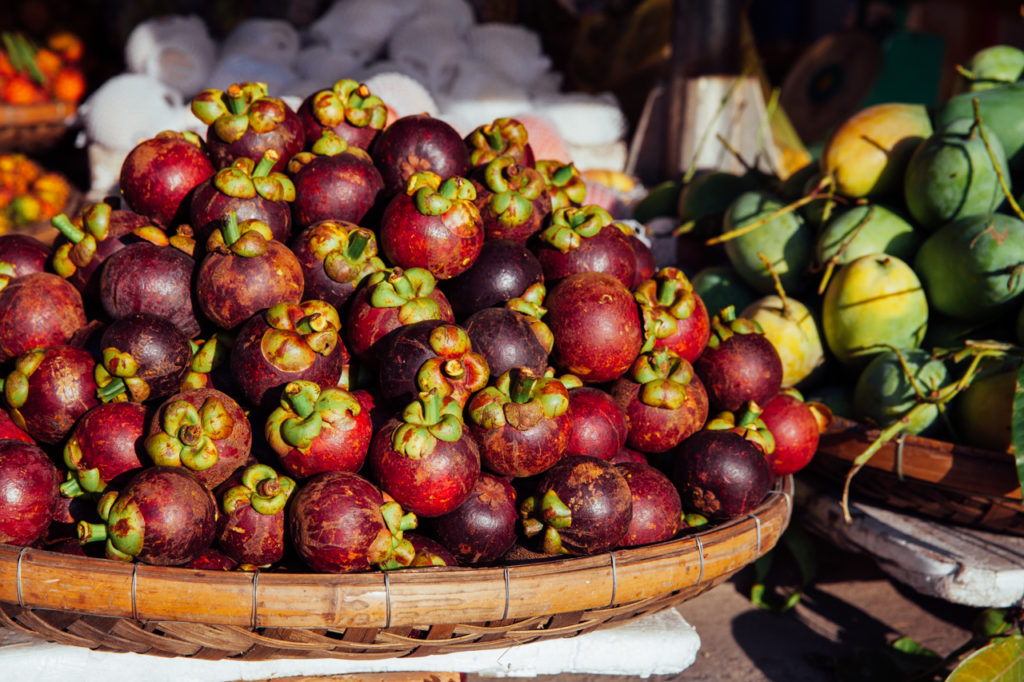 Custard apple (Vietnamese: Mãng Cầu)
Knobby green "apple" with creamy flesh. It is sweet and fragrant with notes of melon and custard. The seeds and the skin are inedible, but ripe fruit is easy to peel. There are two kinds of custard apple in Vietnam: firm and soft. Both types can have various shapes.
Season: July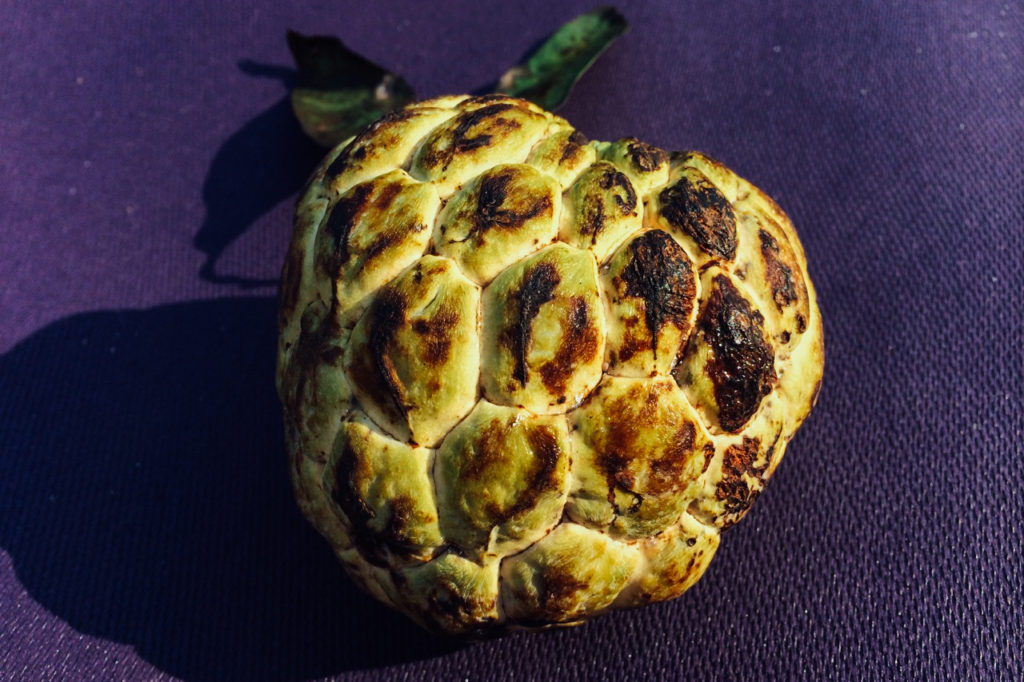 Durian (Vietnamese: Sầu riêng)
Considered as "king of fruits" by many, durian is famous for its strong odor. "No Durians" sign is common in public places in Southeast Asia because the smell wouldn't disappear for a long time. The fruit is covered by green spiked skin and has soft and creamy flesh around the big seeds. Freshly cut fruits are not so smelly like stored ones. The taste of durian is complicated with fruity notes and savory onion-like aftertaste.
Season: May to July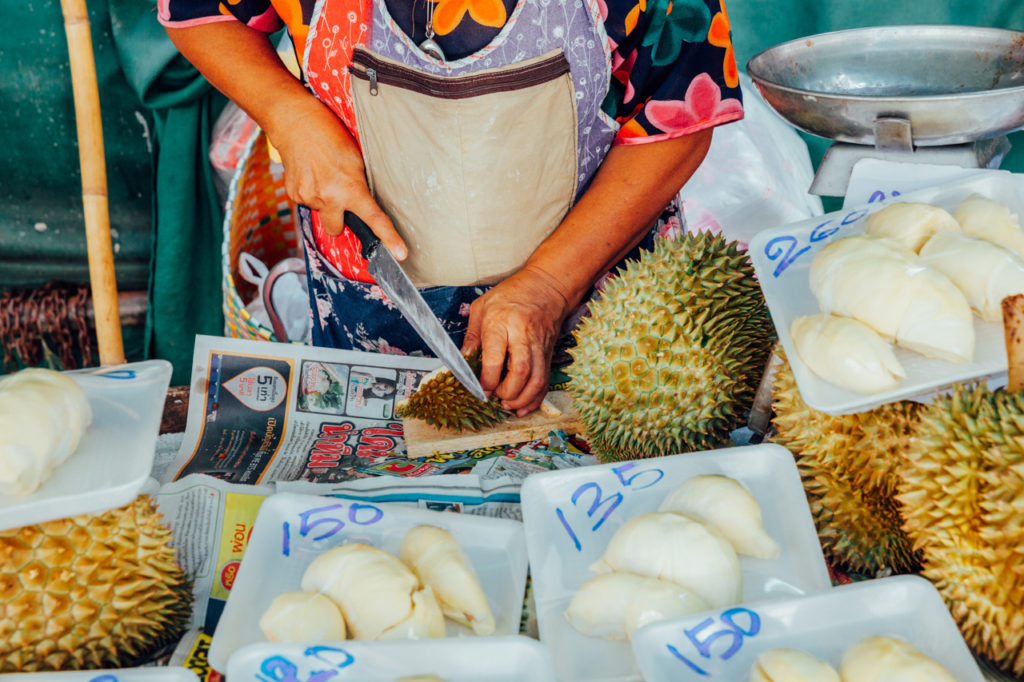 Jackfruit (Vietnamese: Mít)
Slightly similar with durian on the outside, jackfruit is not so smelly and much bigger. Actually, it is the largest tree-borne fruit in the world. Jackfruit may reach 35 kg in weight and 90 cm in length. The flesh of the jackfruit is fibrous with a lite taste of an overripe pineapple. The fruit is usually available already peeled and packaged.
Season: March to June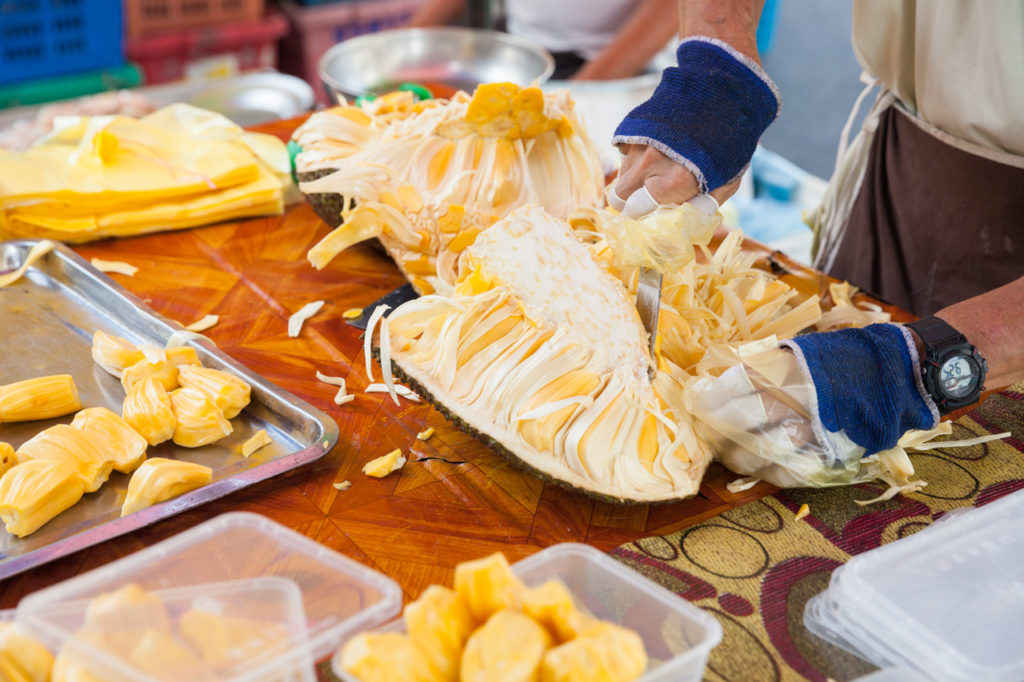 Pomelo (Vietnamese: Bưởi)
A Large citrus fruit native to South and Southeast Asia. There are many varieties of pomelo grow in Vietnam. The fruit tastes like a sweet grapefruit, the sweetness varies from type to type. A favorite local way to eat pomelo is with salt-and-chili seasoning.
Season: June to January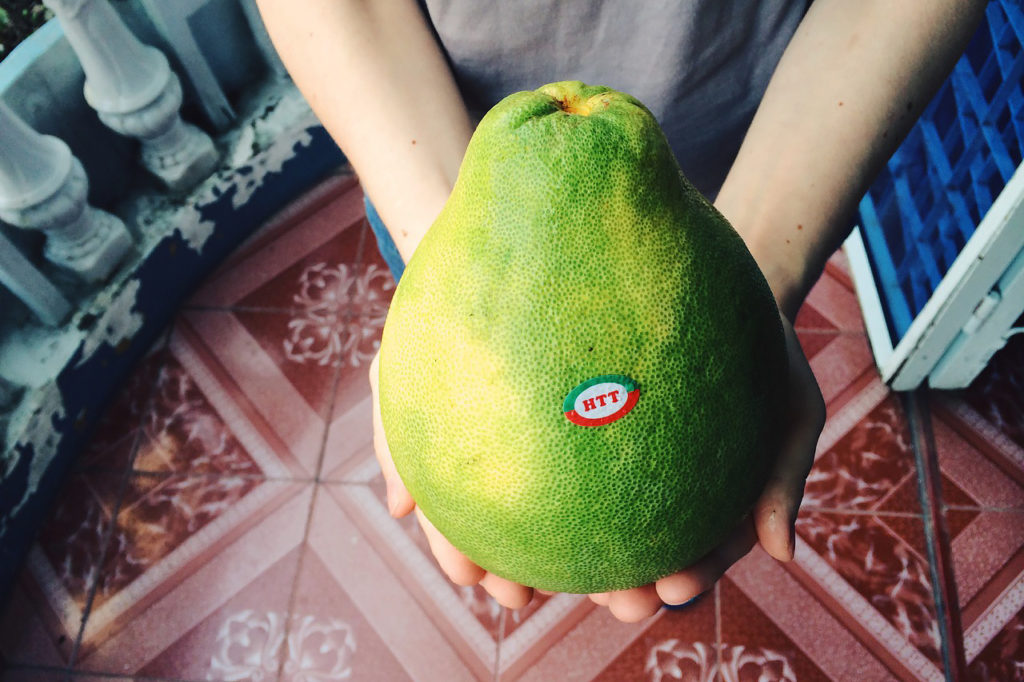 Rose Apple (Vietnamese: Mận)
Rose Apple also called Javanese Apple (Syzygium samarangense) is a bell-shaped fruit with crispy and juicy flesh. The flavor is similar to an unripe pear. It's not much about taste, but the fruit is very refreshing.
Season: May to September, November to March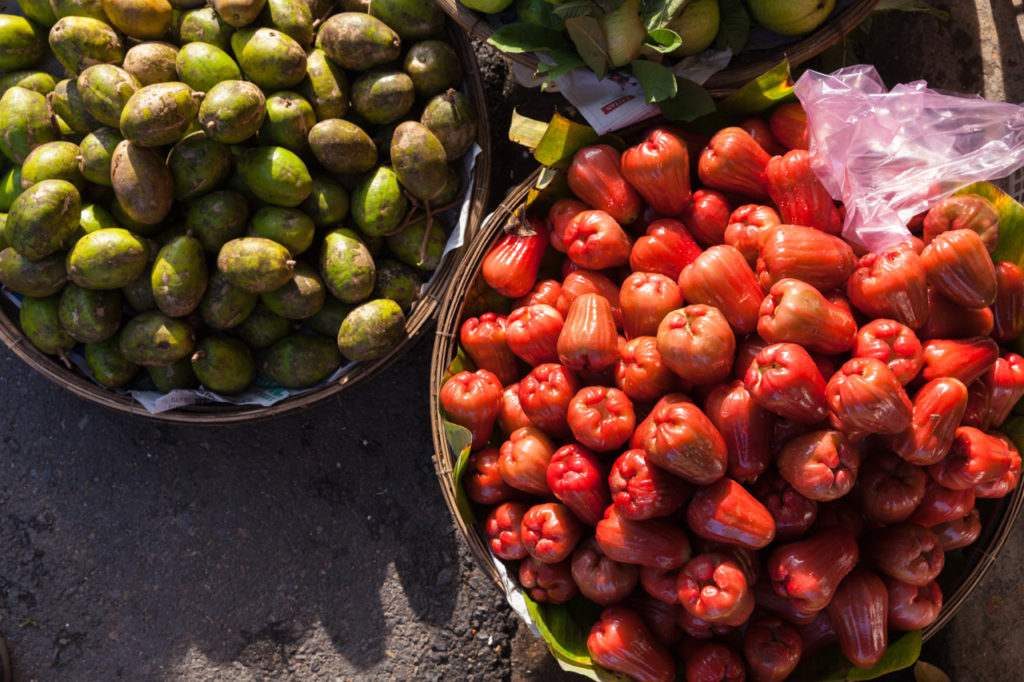 Mango (Vietnamese: Xoài)
One of the best tropical delights, mango is widely available in Vietnam during the peak season. There are many varieties that differ in appearance and taste. Sweet and juicy flesh with notes of citrus, melon or honey will leave no one indifferent.  It is popular to eat unripe mangoes as a savory snack among locals, so choose the ripeness of your fruit carefully.
Season: March to May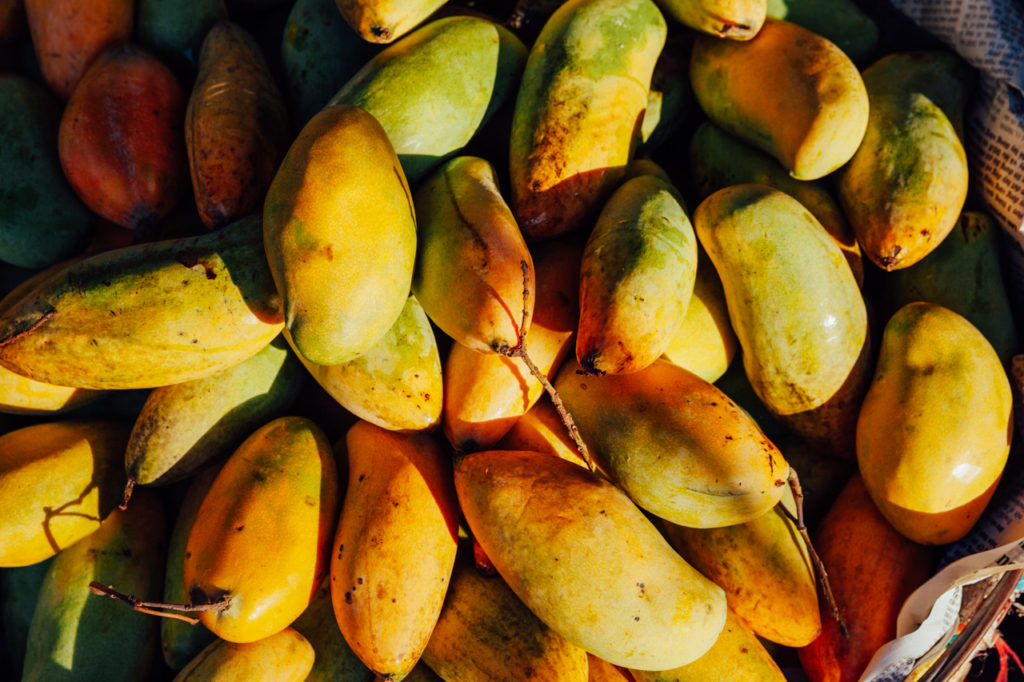 It is only a part of the fruit rainbow present in Vietnam. The best way is to explore it yourself and find your own gems!
Love the post? Pin It! 
Photo credit: © Elena Ermakova, © Evgeny Ermakov. All rights reserved. Contact us here if you are interested in using our photos.