Balance is a key element of Vietnamese cuisine. The balance is based on the combination of five fundamental taste senses: spicy, sour, bitter, salty, and sweet. But not only the taste, colors and textures of a dish should be balanced too. In addition, the principle of Yin-Yang is applied in composing a Vietnamese meal. Yin-Yang principal refers the "heating" and "cooling" properties of ingredients.
Basic ingredients of Vietnamese cuisine
The freshness of food is also one of the distinctive characteristics of Vietnamese cuisine, most dishes are cooked just before a meal. Common ingredients include rice, vegetables, fish sauce, shrimp paste, soy sauce, lemongrass, ginger, mint, long coriander, Thai basil,  bird's eye chili, and lime. Different varieties of noodle soups and white rice are the staples of Vietnamese cuisine.
Vegetarian Vietnamese food
Fish sauce (Nước mắm) and shrimp paste (mắm ruốc, mắm tép, mắm tôm) are widely used in Vietnamese cuisine. Eggs are commonly used in fried rice and noodles. People with food allergies and vegetarians should be very careful. Thankfully to the popularity of Buddhism in Vietnam, there are a lot of pure vegan restaurants and eateries throughout the country. Pure vegan means that no animal products are used during cooking. Vegetarian Vietnamese food can be easily determined by the sign Cơm Chay which means "vegetarian food" on Vietnamese. You may notice chicken (gà), beef (bò), fish (cá) or shrimp (tôm) in a menu of vegan (Cơm Chay) restaurants, but it means their vegan condiments, so you shouldn't be worried.
What to eat in Vietnam?
Once in Vietnam, it is easy to get lost in a vast variety of Vietnamese dishes. These are ones should not be missed.
Pho (Phở)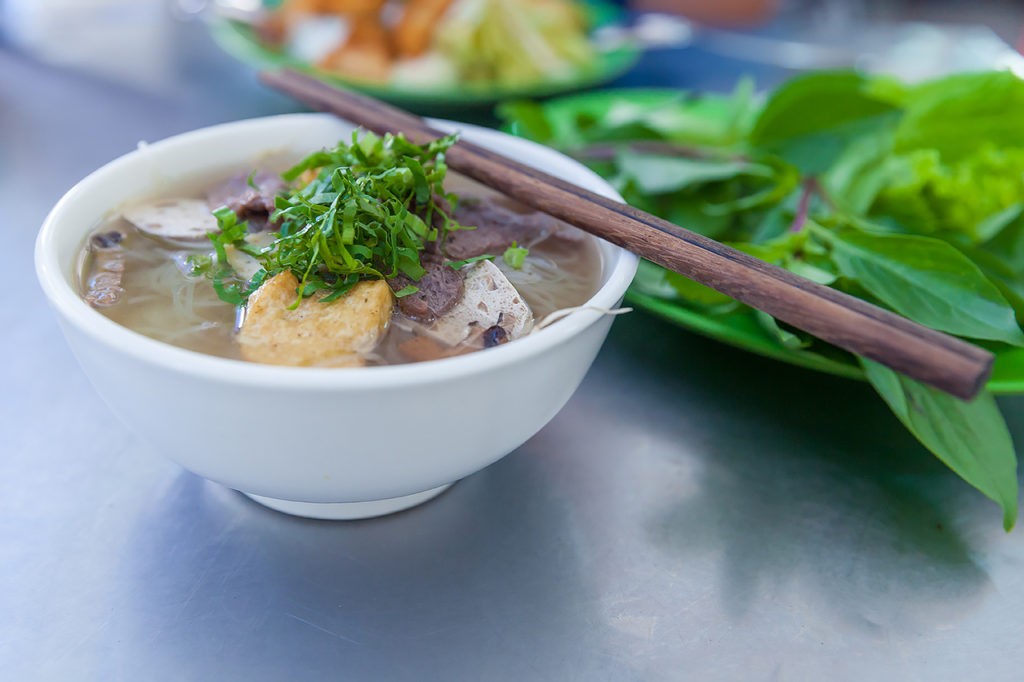 Pho (Phở) is the staple of Vietnamese cuisine and probably the most famous Vietnamese dish. Pho is a name of the flat rice noodles which is a base of the soup. There are other dishes based on the Pho: stir-fried Pho (Phở xào), dry Pho (Phở khô), Pho spring roll (Phở cuốn), sauteed Pho (Phở áp chảo), sour pho (Phở Chua). A broth for the noodle soup Pho is generally made from beef (Phở bò), but there is also chicken (Phở gà) and vegetable (Phở chay) variations. Pho is served in a bowl with thin cuts of meat accompanied with fresh herbs, bean sprouts, lime and chili peppers. There are a variety of noodle soups in Vietnamese cuisine besides Pho, the most notable are: Bún bò Huế (rice vermicelli with beef), Bún riêu (crab noodle soup),  Mì Quảng (yellow noodle soup).
 Banh mi (Bánh mì)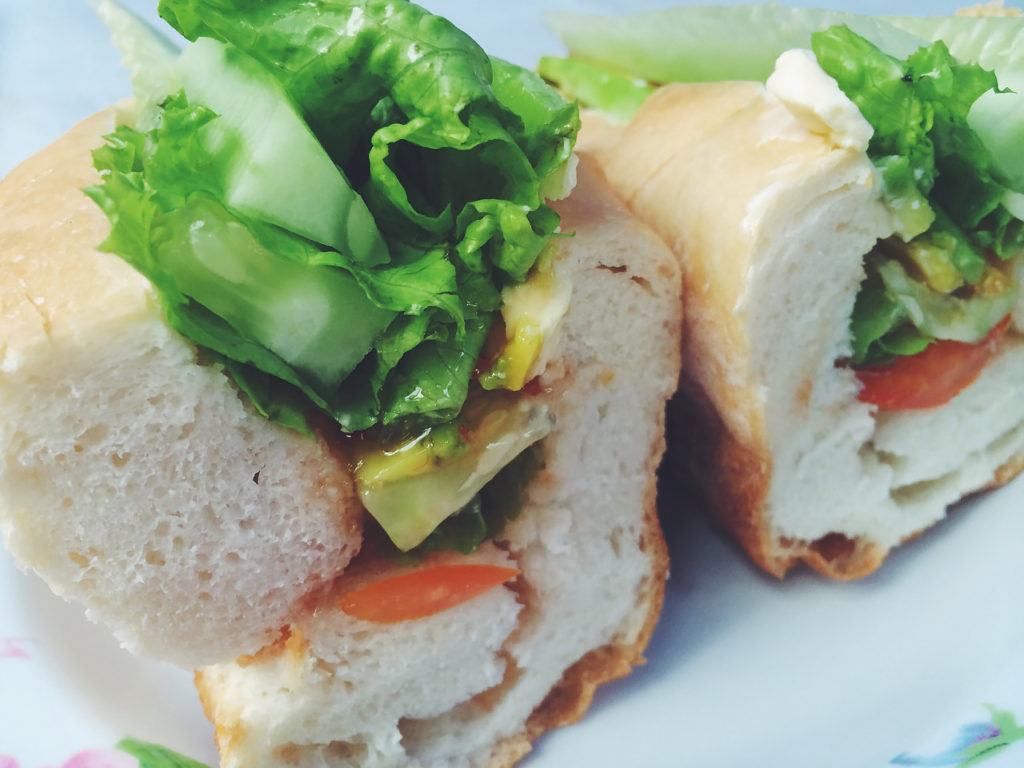 Banh mi (Bánh mì) is the famous Vietnamese sandwich. It is one of the favorite snacks in Vietnam. Banh mi sandwich is a product of French influence in Vietnam during the colonial period. The sandwich is made from Vietnamese baguette filled with pate, cold cuts (ham, cheese, shredded meat etc.), pickled vegetables, fresh cucumber, coriander leaves, and sauces like Vietnamese mayonnaise or chili sauce. There is a huge amount of variations of Banh mi depending on vendor and your taste.
Spring rolls and Summer rolls (Nem, Cuốn)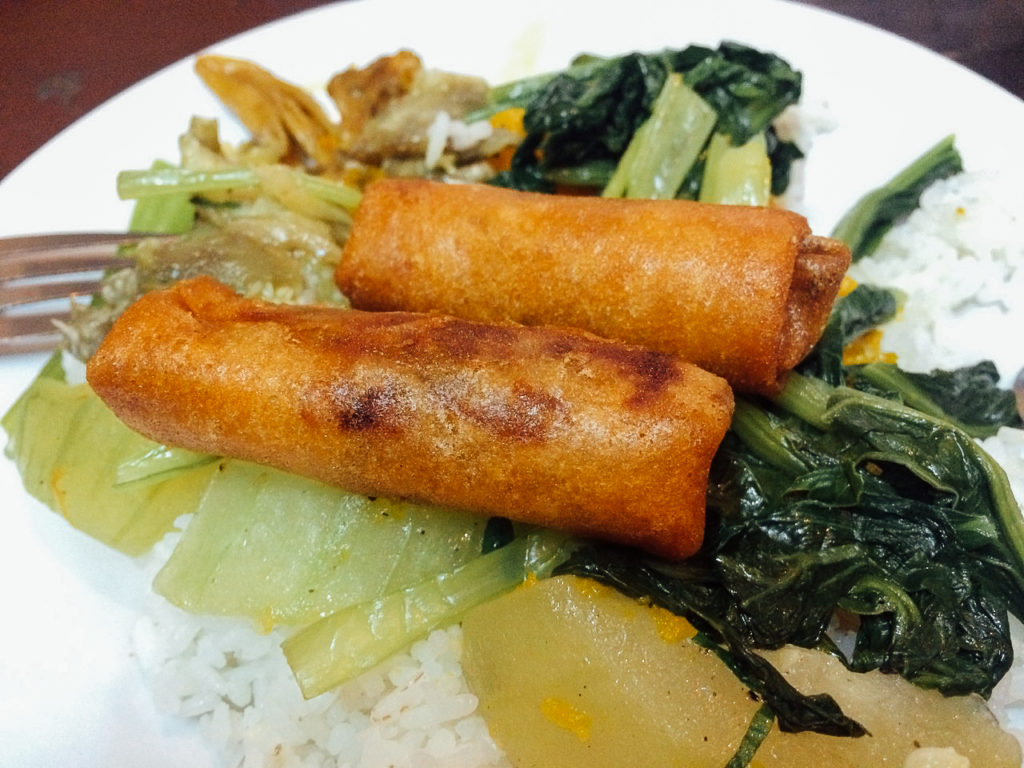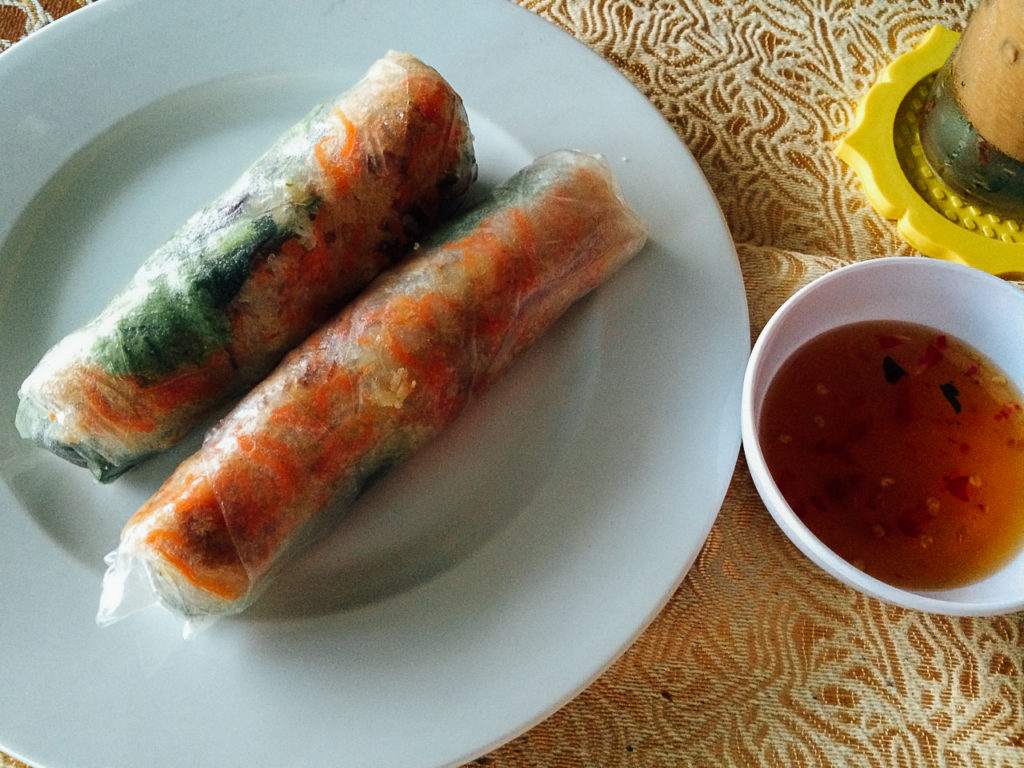 Spring and Summer rolls it is a wrap with herbs, pork, rice vermicelli, shrimp and other ingredients wrapped up in rice paper and served with a dipping sauce. Spring rolls are deep-fried while Summer rolls are eaten fresh. Meat-free Spring and Summer rolls are also widely available in Vietnam.
Bo la lot (Bò lá lốt)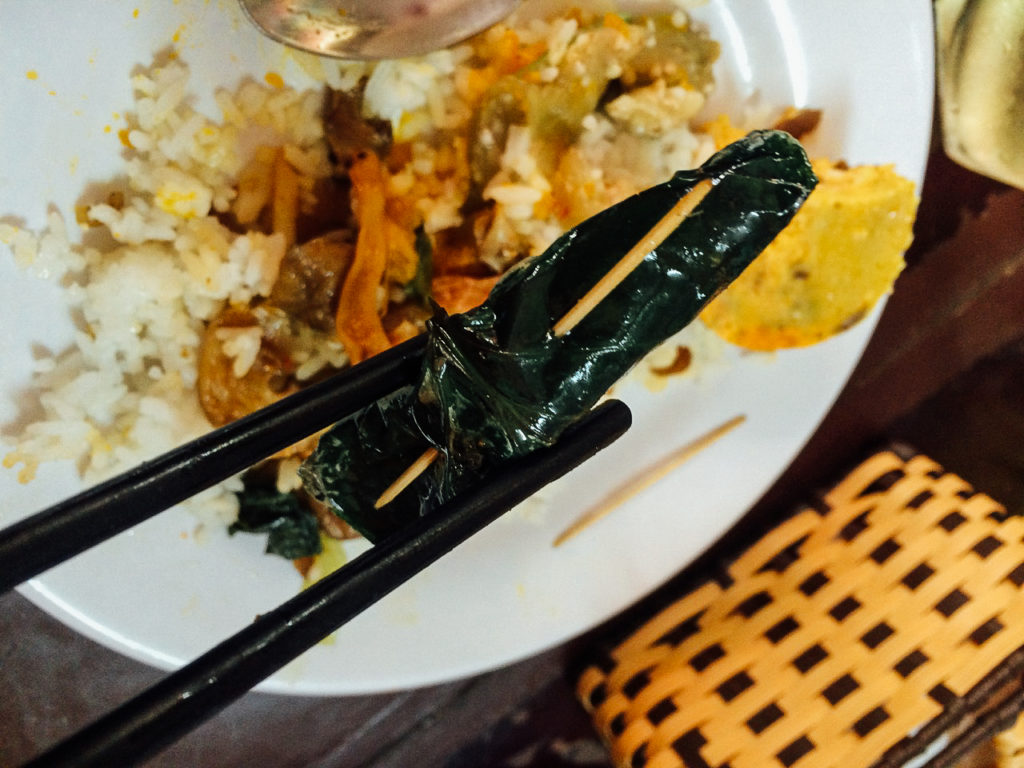 Not so famous as previous ones, Bo la lot (Bò lá lốt) is a dish of spiced beef rolled in a pepper leaf and grilled. The fragrant aroma of la lot leaves gives the distinctive spicy taste to the dish. A vegan variety of Bo la lot with beef condiment can sometimes be found in Com Chay eateries.
Bánh bao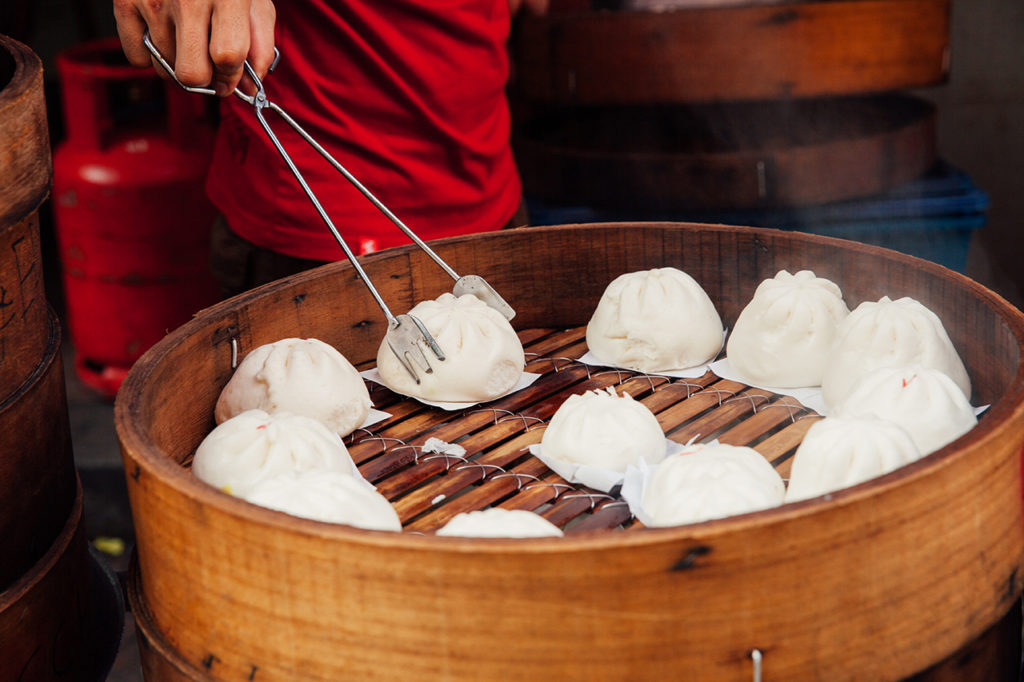 Bánh bao is a steamed bun dumpling with Chinese origins. Typical stuffings include pork and boiled egg or mushrooms and vegetables in a vegan version.
Lau hot-pot (Lẩu)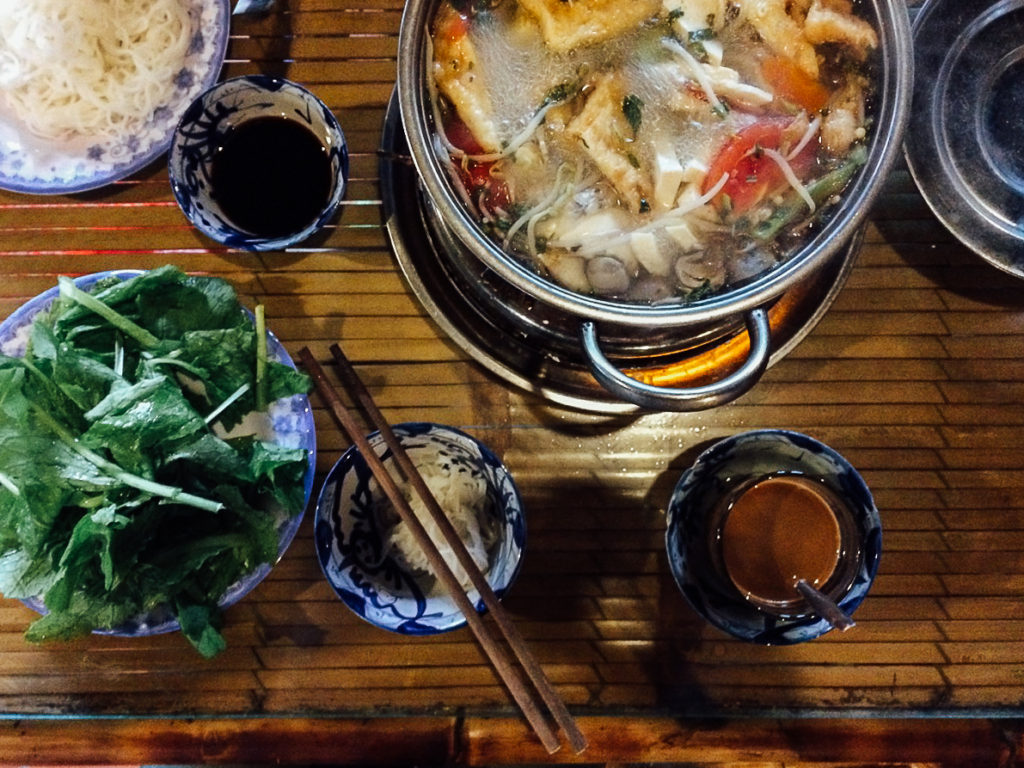 Hot-pot or Lau (Lẩu) is a dish with Mongolian-Chinese origins popular throughout Asia. Hot-pot is not so much about the dish, as it is about the process. When you order a hot-pot, a pot of a simmering stew is placed on a table with raw ingredients served separately. Raw ingredients should be placed into the pot and are cooked at the table. Typical ingredients include sliced meat, leafy vegetables, mushrooms, tofu, and seafood. Lau is one of the favorite ways to spend time with family and friends among the Vietnamese.
Banh chung (Bánh chưng)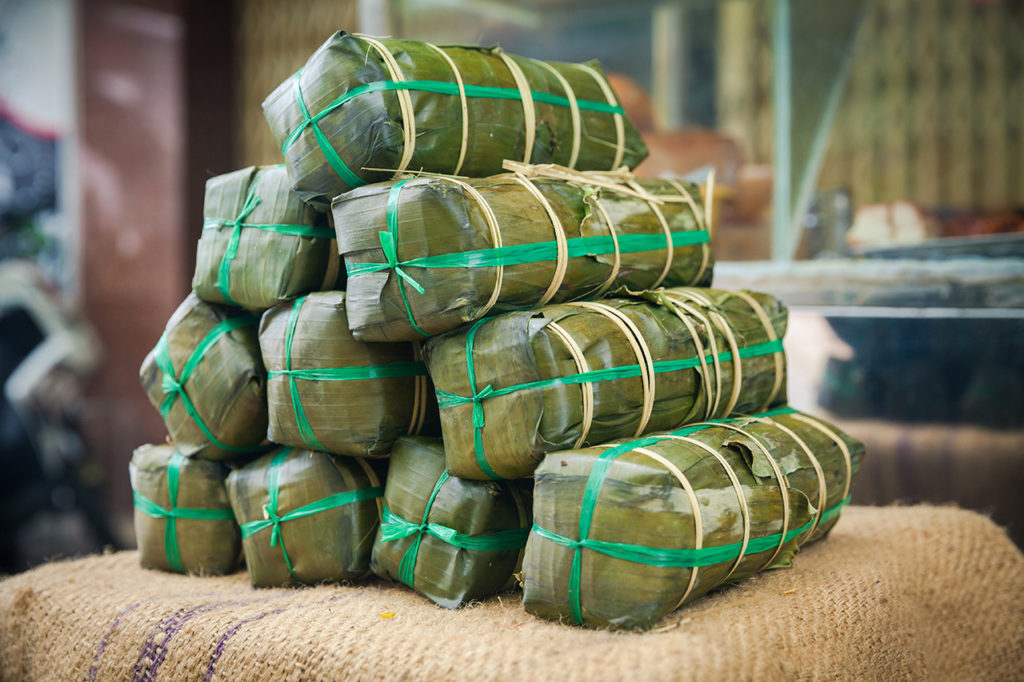 Banh chung (Bánh chưng) is a sticky rice cake wrapped in banana leaf and boiled for hours. The cake is usually stuffed with pork, mung beans, and other ingredients. Banh chung is a traditional dish of the Vietnamese New Year (Tết), but it can be eaten all year round. Vegan version stuffed with mung beans is also available.
Banh xeo (Bánh xèo)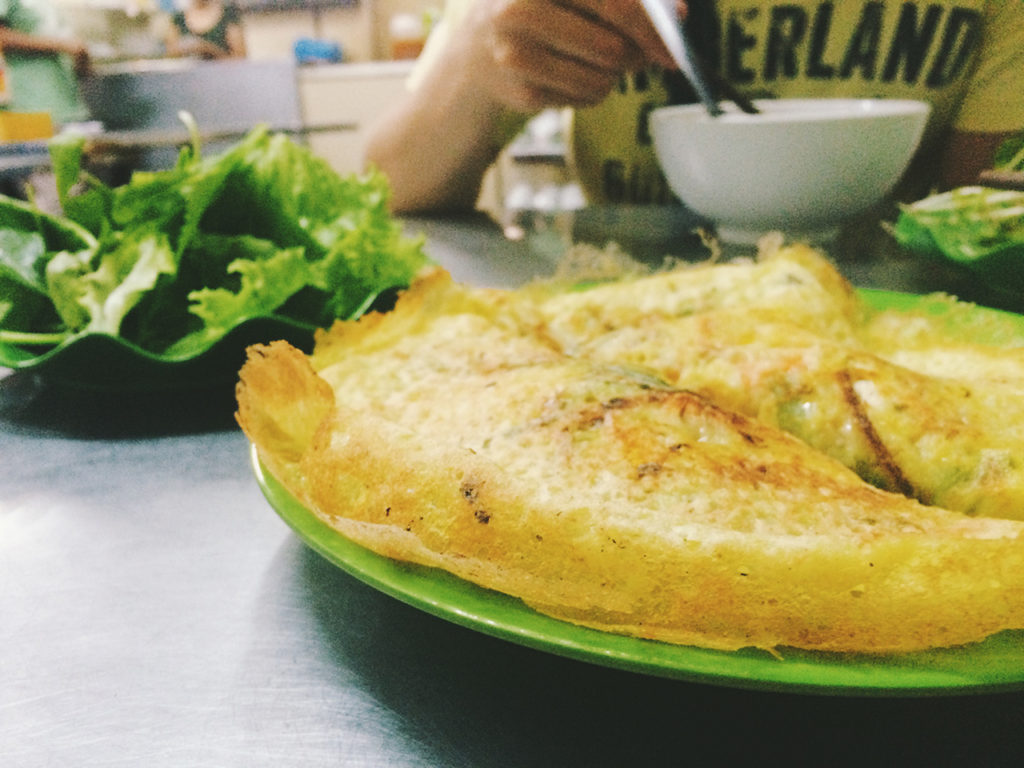 Banh xeo (Bánh xèo) is a pan-fried cake made of rice flour with turmeric, shrimp, pork, sliced onions, and sometimes mushrooms. The cake is served with lettuce, fresh herbs, bean sprouts, and dipping sauce. A vegan version of Banh Xeo also can be found.
Com dia (Cơm Đĩa)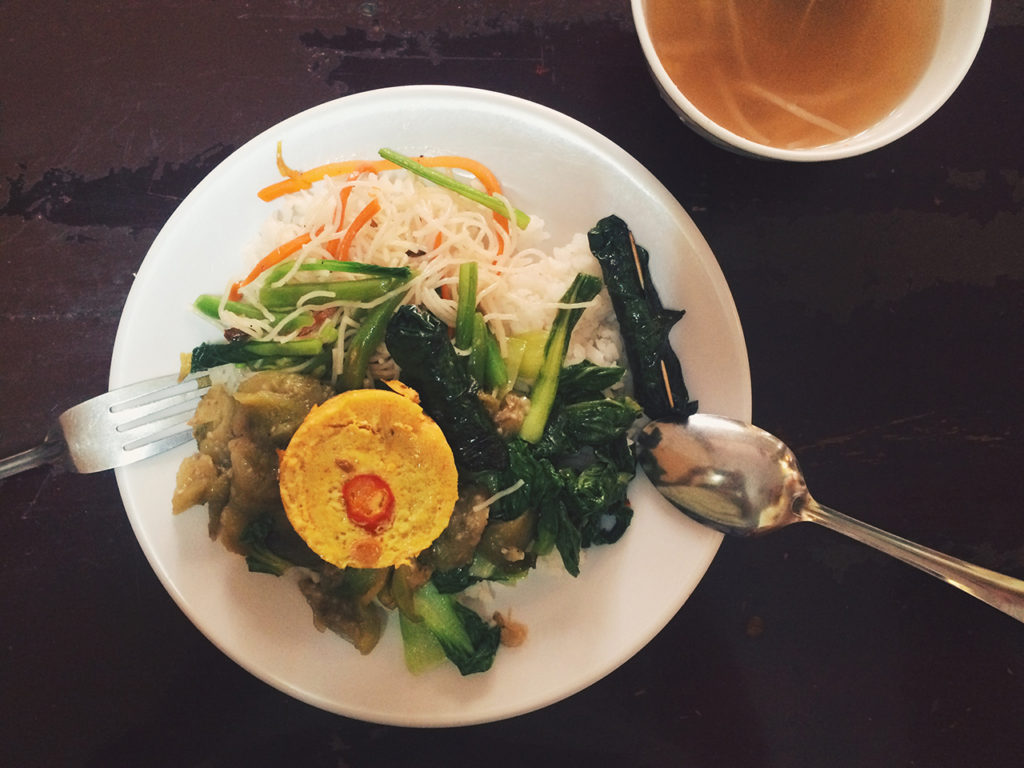 Com dia (Cơm Đĩa) or Rice Platter is a comforting food for the Vietnamese that is eaten daily along with Pho. The main ingredient of Vietnamese Rice Platter is a boiled white rice which comes along with pork slices, fried eggs, vegetables, pickles and other accompanies. Com dia usually served with a bowl of broth. Related dishes are Cơm tấm (broken rice with grilled pork), Cơm gà (rice with chicken), Cơm vịt (rice with duck). A vegan Com dia is one the most popular dishes in Com Chay eateries.
Che (Chè)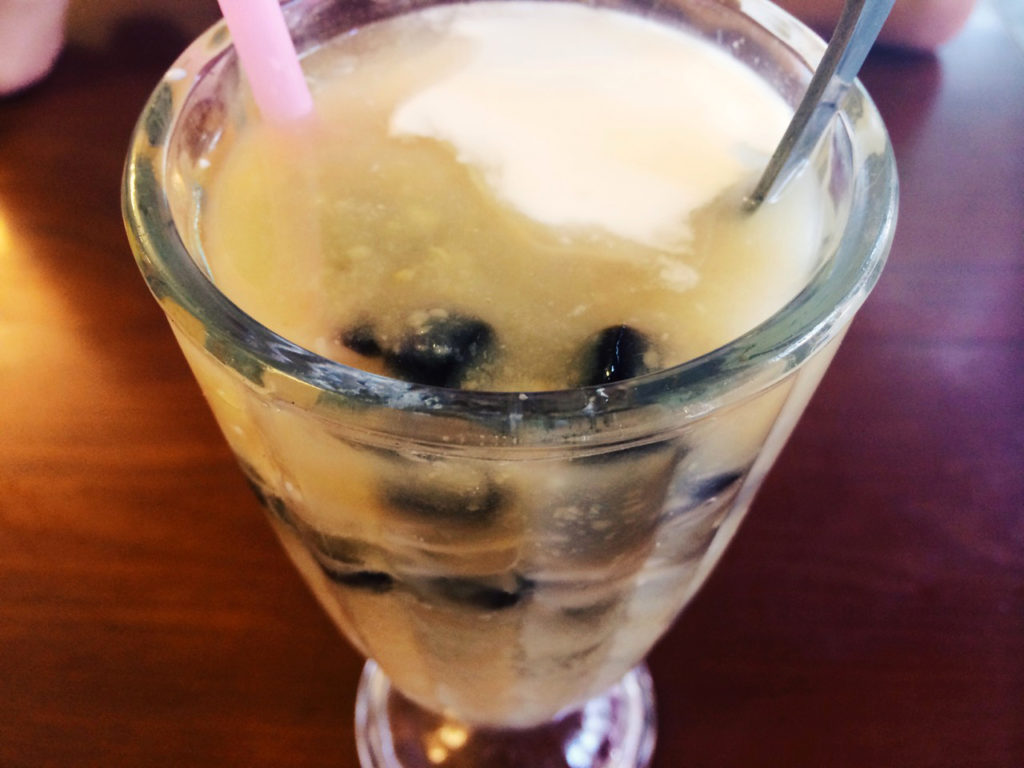 Che (Chè) is a dessert soup usually served in a glass over ice and eaten with a spoon. There are numerous varieties of the desert, the most common ingredients include beans (mung beans, black-eyed peas, azuki beans), tapioca, grass jelly, fruits, and coconut cream.
Sinh to (Sinh tố)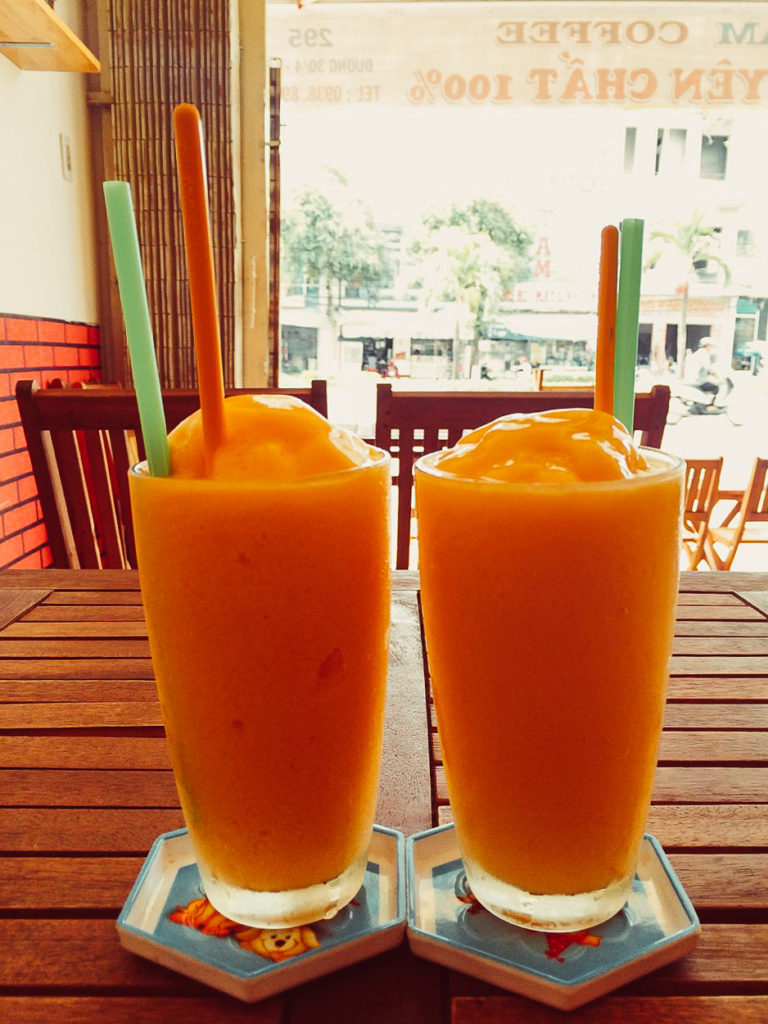 Sinh to (Sinh tố) is a thick Vietnamese fruit smoothie usually made with ice, condensed milk or/and yogurt. Unsweetened or dairy-free Sinh to can be made by order.
Vietnamese coffee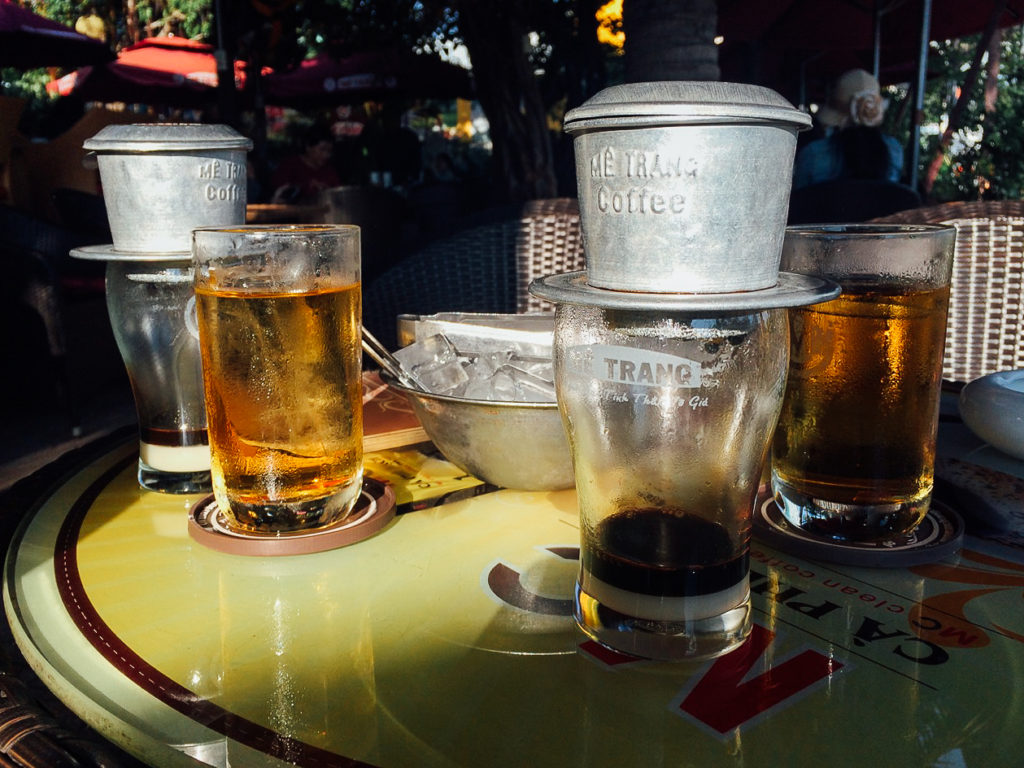 Vietnam is the world's second-largest coffee producer, and there is a local coffee culture distinctive from any other part of the world. Coffee drinking is an important part of a daily life in Vietnam. Vietnamese style coffee is a dark-roasted ground coffee brewed with a metal drip filter called Phin cà phê.
Vietnamese coffee can be served hot or iced and usually comes in two variations: with condensed milk (cà phê sữa) or black (cà phê). Coffee is always sweetened in Vietnam, even it is a black coffee. Vietnamese style coffee has a strong bitter-sweet taste with notes of dark chocolate. Coffee in Vietnam commonly served with a glass of local green tea.
Love the post? Pin It!